Embedded type heavy duty automatic flood barrier
Product Detail
FAQ
Product Tags
| | | | | |
| --- | --- | --- | --- | --- |
| Model | water retaining height | installation mode | installation groove section | bearing capacity |
| Hm4e-0006C  |   580 | embedded installation | width 900 * depth 50 | heavy duty (small and medium sized motor vehicles, pedestrian) |
| Hm4e-0009C |   850 | embedded installation | 1200 | heavy duty (small and medium motor vehicles, pedestrian) |
| Hm4e-0012C  | 1150 | embedded installation |  width: 1540 * depth: 105 |  heavy duty (small and medium-sized motor vehicles, pedestrian) |
| | | | |
| --- | --- | --- | --- |
| Grade | Mark | Bearing capacity (KN) | Applicable occasions |
| Heavy duty | C | 125 | underground parking lot, car parking lot, residential quarter, back street lane and other areas where only allow non-fast driving zone for small and medium-sized motor vehicles (≤ 20km / h). |
Features& advantages:
Unattended operation
Automatic water retaining
Modular design
Easy installation
Simple maintenance
Long durable life
Retaining water automatically without power
40tons of saloon car crashing test
Qualified 250KN of loading test
Introduction of Automatic Flood barrier/gate( also called Hydrodynamic automatic flood barrier)
Junli brand hydrodynamic automatic flood barrier/gate provides 7 × 24-hour water defensing and flood prevention protection. The flood gate is composed of a ground bottom frame, a rotatable water defense door leaf and a rubber soft stopping water plate at the ends of the walls on both sides. The whole flood gate adopt modular assembly and ultra-thin design which look like a the speed limit belt of vehicle. The flood gate can be quickly installed at the entrance and exit of underground buildings. When there is no water, the water defensing door leaf lies on the ground bottom frame, and the vehicles and pedestrians can pass through without obstacles; in case of flood, the water flows into the lower part of the water defensing door leaf along the water inlet at the front end of the ground bottom frame, and when the water level reaches the trigger value, the buoyancy pushes the front end of the water defensing door leaf to turn up, so as to achieve automatic water defense. This process belongs to pure physical principle, and does not need electric drive and no personnel on duty. It is very Safe and reliable. After the flood barrier deploying the flood defense door leaf, the warning light belt at the front of the water defensing door leaf flashes to remind the vehicle not to collide. Small water controlled circulation design, ingeniously solve the problem of slope surface installation. Before the arrival of flood, the flood gate can also be opened manually and locked in place.
Automatic flood barrier water defense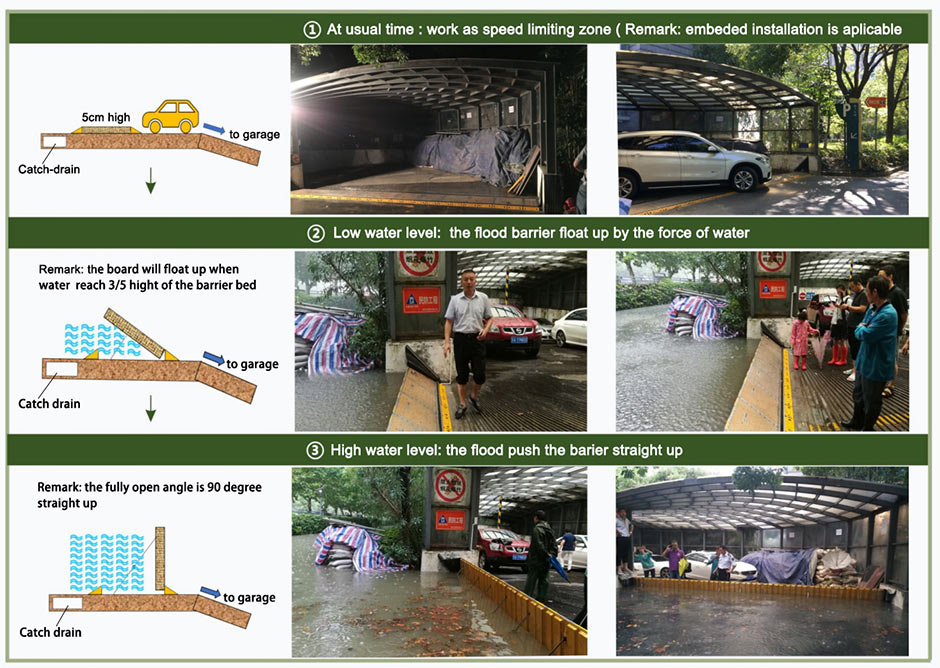 ---
Previous:
Embedded flood barrier Hm4e-0012C
---