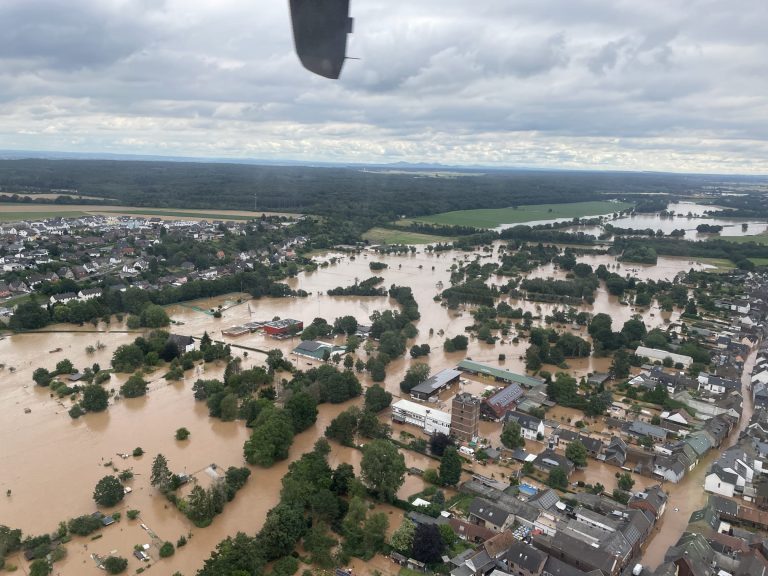 Flooding after torrential rain caused widespread damage in the states of North Rhine-Westphalia and Rhineland-Palatinate from 14 July 2021.
According to official statements made on 16 July 2021, 43 fatalities have now been reported in North Rhine-Westphalia and at least 60 people have died in flooding in Rhineland-Palatinate.
Germany's Civil Protection agency (BBK) said as of 16 July the affected districts include Hagen, Rhein-Erft-Kreis, Städteregion Aachen in North Rhine-Westphalia; Landkreis Ahrweiler, Eifelkreis Bitburg-Prüm, Trier-Saarburg and Vulkaneifel in Rhineland-Palatinate; and Hof district in Bavaria.
Transport, telecommunications, power and water infrastructure have been severely damaged, impeding damage assessments. As of 16 July there were still an unknown number of people unaccounted for, including 1,300 people in Bad Neuenahr, Ahrweiler district of Rhineland-Palatinate. Search and rescue operations are continuing.
The full extent of the damage is still to be confirmed but dozens of homes are thought to have been completely destroyed after rivers broke their banks, in particular in Schuld municipality in the district of Ahrweiler. Hundreds of troops from the Bundeswehr (German army) have been deployed to help with clean-up operations.
---
Post time: Jul-29-2021